Bio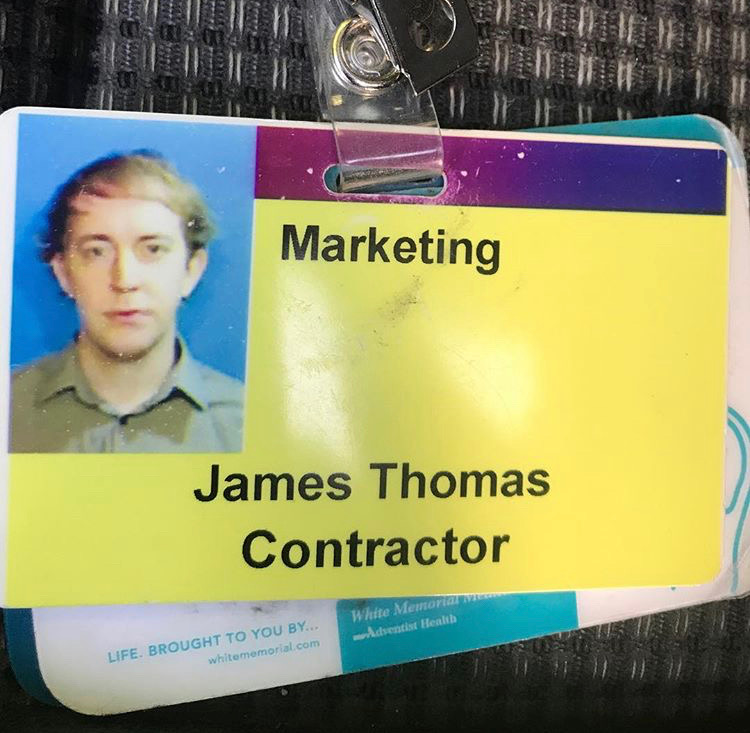 James Thomer is an LA-based recording artist, composer and producer. In 2016 he released his debut as "James The Fifth" with EP San Narciso (sahn-nahrk-ee-soh) on Gnar Tapes and Marriage Records, an oblong dreamy stew of psych and funk with elements of Reichian minimalism. In 2017, San Narciso was rereleased, remixed and engineered with Grammy-award winning producer John Congleton (St Vincent, Angel Olsen, Swans, and more).

Since then, he's released several singles and self-directed music videos, including "Television", which was released physically, extremely physically, on tube TV's specifically built to play only the song "Television" and "Blondie", which premiered on DIY Mag in August 2019.

In late 2018, James worked under composer Magnus Fiennes in collaboration on the score of British sci-fi thriller "Curfew" on Sky One (see reel here).

His full-length debut is due in 2022.
James currently attends CalArts for an MFA in Composition/Experimental Sound Practies.

Contact

Licensing: kristina@sweetontop.org

All else: james.thomer@gmail.com




**FOR SEO PURPOSES**
James Thomer James Thomer James Thomer James Thomer James Thomer James Thomer James ThomerJames Thomer James Thomer James Thomer James Thomer James Thomer James Thomer James ThomerJames Thomer James Thomer James Thomer James Thomer James Thomer James Thomer James ThomerJames Thomer James Thomer James Thomer James Thomer James Thomer James Thomer James ThomerJames Thomer James Thomer James Thomer James Thomer James Thomer James Thomer James ThomerJames Thomer James Thomer James Thomer James Thomer James Thomer James Thomer James ThomerJames Thomer James Thomer James Thomer James Thomer James Thomer James Thomer James ThomerJames Thomer James Thomer James Thomer James Thomer James Thomer James Thomer James ThomerJames Thomer James Thomer James Thomer James Thomer James Thomer James Thomer James ThomerJames Thomer James Thomer James Thomer James Thomer James Thomer James Thomer James ThomerJames Thomer James Thomer James Thomer James Thomer James Thomer James Thomer James ThomerJames Thomer James Thomer James Thomer James Thomer James Thomer James Thomer James ThomerJames Thomer James Thomer James Thomer James Thomer James Thomer James Thomer James ThomerJames Thomer James Thomer James Thomer James Thomer James Thomer James Thomer James ThomerJames Thomer James Thomer James Thomer James Thomer James Thomer James Thomer James ThomerJames Thomer James Thomer James Thomer James Thomer James Thomer James Thomer James ThomerJames Thomer James Thomer James Thomer James Thomer James Thomer James Thomer James ThomerJames Thomer James Thomer James Thomer James Thomer James Thomer James Thomer James ThomerJames Thomer James Thomer James Thomer James Thomer James Thomer James Thomer James ThomerJames Thomer James Thomer James Thomer James Thomer James Thomer James Thomer James ThomerJames Thomer James Thomer James Thomer James Thomer James Thomer James Thomer James ThomerJames Thomer James Thomer James Thomer James Thomer James Thomer James Thomer James ThomerJames Thomer James Thomer James Thomer James Thomer James Thomer James Thomer James ThomerJames Thomer James Thomer James Thomer James Thomer James Thomer James Thomer James ThomerJames Thomer James Thomer James Thomer James Thomer James Thomer James Thomer James ThomerJames Thomer James Thomer James Thomer James Thomer James Thomer James Thomer James ThomerJames Thomer James Thomer James Thomer James Thomer James Thomer James Thomer James ThomerJames Thomer James Thomer James Thomer James Thomer James Thomer James Thomer James ThomerJames Thomer James Thomer James Thomer James Thomer James Thomer James Thomer James ThomerJames Thomer James Thomer James Thomer James Thomer James Thomer James Thomer James ThomerJames Thomer James Thomer James Thomer James Thomer James Thomer James Thomer James ThomerJames Thomer James Thomer James Thomer James Thomer James Thomer James Thomer James ThomerJames Thomer James Thomer James Thomer James Thomer James Thomer James Thomer James ThomerJames Thomer James Thomer James Thomer James Thomer James Thomer James Thomer James ThomerJames Thomer James Thomer James Thomer James Thomer James Thomer James Thomer James ThomerJames Thomer James Thomer James Thomer James Thomer James Thomer James Thomer James ThomerJames Thomer James Thomer James Thomer James Thomer James Thomer James Thomer James ThomerJames Thomer James Thomer James Thomer James Thomer James Thomer James Thomer James ThomerJames Thomer James Thomer James Thomer James Thomer James Thomer James Thomer James ThomerJames Thomer James Thomer James Thomer James Thomer James Thomer James Thomer James ThomerJames Thomer James Thomer James Thomer James Thomer James Thomer James Thomer James ThomerJames Thomer James Thomer James Thomer James Thomer James Thomer James Thomer James ThomerJames Thomer James Thomer James Thomer James Thomer James Thomer James Thomer James ThomerJames Thomer James Thomer James Thomer James Thomer James Thomer James Thomer James ThomerJames Thomer James Thomer James Thomer James Thomer James Thomer James Thomer James ThomerJames Thomer James Thomer James Thomer James Thomer James Thomer James Thomer James ThomerJames Thomer James Thomer James Thomer James Thomer James Thomer James Thomer James Thomer James ThomerJames Thomer James Thomer James Thomer James Thomer James Thomer James Thomer James Thomer